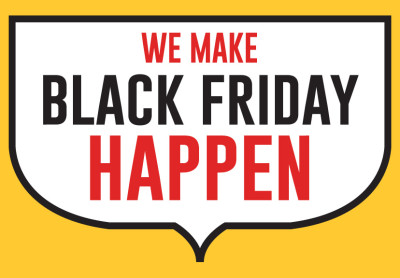 At a time when things have never been better for a select few, things have never been worse for many workers in Minnesota. While corporations like Target and Walmart make record profits and pay their CEOs lavish salaries, the workers who make their profits happen during the holidays are falling further and further behind. In the quest for more and more profits, corporations are putting the squeeze on workers, the result of which is a future of work that is increasingly part-time with no benefits and poverty wages. The wages are so low that taxpayers are on the hook for billions of dollars per year to subsidize the low wages paid by these highly profitable corporations for items like food stamps and Medicaid for their workers.
Black Friday weekend, with $20 billion in spending during the weekend in 2012, is the biggest shopping weekend of the year. Workers and allies aligned with Minnesotans for a Fair Economy chose Thanksgiving week to highlight the inequities in the wages of workers who make holiday travel, shopping and more happen in Minnesota.
This Black Friday Week of Action connected various worker-led actions across Minnesota, calling on corporations and state legislators to end poverty wages in Minnesota. From worker strikes in Brooklyn Center & Minneapolis to protests in St. Cloud & Duluth to a large march on Black Friday in St. Paul, the week saw struggling workers bravely stand up to demand fair wages and a voice in the workplace along with an increase in the state minimum wage. Members of  faith, labor and community organizations stood shoulder to shoulder with these workers in support of their call for dignity and respect in the workplace, understanding that the extraction of wealth from our communities by big corporations affects us all.
Please find below a recap of each action along with press coverage during Minnesota for a Fair Economy's Black Friday Week of Action to End Poverty Wages in Minnesota.
 Buy Local Report Release, 11/24 & 11/25
On Sunday and Monday, local think-tank Minnesota 2020 released their annual Buy Local report. The  report highlighted questions that shoppers should ask themselves when deciding where to spend their  money, including whether an establishment pays at least $9.50 an hour and provides benefits to their  workers. The report was released at various small businesses around the state that were lifted up as  doing right by their employees.
 See all of the press clips HERE.
OurWalmart Strike, 11/25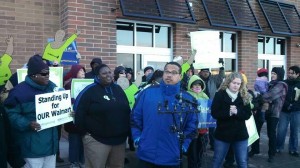 On Monday workers from the Brooklyn Center Walmart were joined by  Representative Keith Ellison as they walked off the job for a one-day ULP strike. The  associates were joined by Rep. Ellison and faith leaders as they told their manager    that they were speaking out for fair wages and the ability to express concerns without  the fear of retaliation. Strikers spoke outside the store surrounded by community  supporters who picketed to highlight the low wages at Walmart.
 See all press clips HERE.
Great Minnesota Worker Center Protest 11/26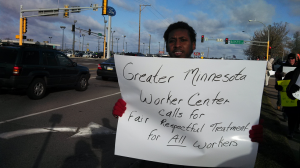 The recently formed Greater Minnesota Worker Center highlighted their growing  strength by rallying in  protest outside of Work Connection, a St. Cloud temp agency.  The agency was highlighted, along with other temp agencies in the area, for their poor  treatment of workers. Workers from the Greater Minnesota Worker Center and  supporters led a delegation into the agency after the protest to call on Work  Connection to treat their workers with respect.
  See all of the press clips HERE.
Protest to End Poverty Wages at MSP 11/27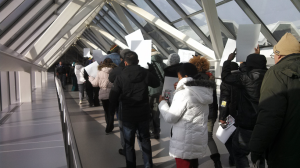 Airport workers who are paid poverty wages despite doing important jobs like  transporting seniors and passengers with disabilities and cleaning planes came together Wednesday in an effort to Bring Dignity Back to MSP. The workers, looking to organize with SEIU Local 26, held a press conference with Representative Keith Ellison and other supporters before silently marching through the terminal with signs calling to end poverty wages and ending the event with a protest outside of the terminal, all on the busiest travel day of the year.
See all of the press clips HERE.
CTUL Strike / March to End Poverty Wages, 11/29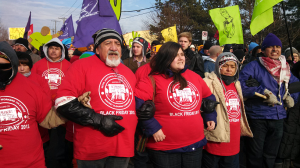 Black Friday began at 5:30 a.m. as retail cleaning workers employed by contractors to clean stores like Target went on an Unfair Labor Practice (ULP) strike. Cleaners  from over 40 stores in the Twin Cities area, organizing with the worker center Centro de Trabajadores Unidos en Lucha (CTUL), walked off the job and picketed with allies in front of Target's flagship downtown Minneapolis store. The strike came after calling on the cleaning companies to guarantee fair wages and the right to organize without fear of retaliation and not getting a response.
After the CTUL picket line in Minneapolis ended, worker and allies from all of the week's campaigns joined together in St. Paul for a march to end poverty wages. Hundreds marched by Target and Walmart before 26 Minnesotans participated in non-violent civil disobedience to highlight the urgency of giving workers a raise and ending poverty wages in Minnesota.
See all of the press clips HERE.