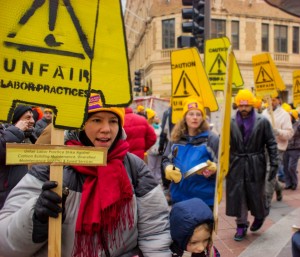 On day two of the Unlock Our Future week of action, we've made history.
Today, retail janitors who contract at Target went on strike. The historic action was the first contracted retail janitor's strike ever. The janitors, who often work seven days a week at minimum wage have faced reprisals as they stand up for their rights at work.
Target CEO Gregg Steinhafel received $19.7 million in compensation, while many of the janitors who clean his stores are paid as little $7.25 an hour.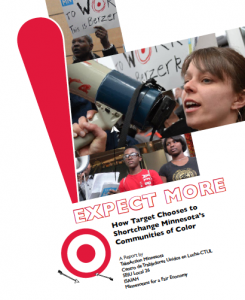 Meanwhile, a report from Minnesota-based community organizations highlighted concerns regarding Target Corporation's treatment of people of color and the company's failure to deliver on its promises. Target has refused to implement commonsense hiring procedures recommended by the Equal Employment Opportunity Commission (EEOC) to ensure that the company's hiring practices do not place a disparate impact on communities of color.
Finally, SEIU Local 26 security officers were preparing to strike.
Despite protecting the offices of some of the nation's highest paid CEOs, some officers are forced to take out payday loans just to cover the basics: food to feed a family, a tank of gas to go to work, or even supplies for the first day of school.
When security officers stood up for a better life, they were met with intimidation from their employers. Now they're preparing to go on strike to protect their rights.
Their story brings into focus the state of Minnesota's disappearing middle class: communities plagued by foreclosures, working families living in poverty, and the American dream moving further out of reach.