Introduction
Over the last two years, Minnesotans for a Fair Economy has brought together a broad alliance of labor, faith-based groups and community organizations to boldly address economic and racial justice issues in Minnesota. Hundreds of members of these organizations have joined activists from the broader community in calling attention to the role big banks and other large corporations have had in the collapse of Minnesota's economy.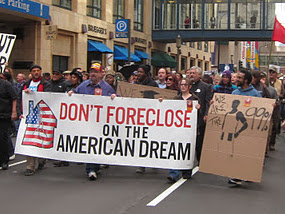 We've marched in the streets. We've attended shareholder meetings and asked questions directly of bank CEOs. We have filled the rotunda of our State Capitol and overflowed hearing rooms. We have prayed together with leaders of multiple faiths. Together we've shut down bridges and streets and stood on the steps of foreclosed homes in support of homeowners.
And yet, the CEOs continue to operate as they always have. Banks continue to proceed with unnecessary and unfair foreclosures—the same banks that have been bailed out with our tax dollars. And the banks, with significant international presence and power, refuse to help Somali Minnesotans send money home to their loved ones in East Africa. A year after the humanitarian crisis began there remains no solution. While they are unwilling to transfer funds to starving families in Somalia, the banks have no problem transferring money into the accounts of vulnerable Minnesotans, charging astronomical interest through predatory payday lending practices.
Corporations continue to hire irresponsible contractors to clean their buildings and stores, sending more and more Minnesotans into poverty and jeopardizing their safety.
Minnesota Values
The reality of Minnesota's ongoing economic crisis is stark. Today, years after the crash and downturn, families that once were comfortably in the middle class find themselves living in poverty. Each day more homes become vacant as unnecessary foreclosures force homeowners on the street. And more and more jobs are being offered at a fraction of what they once paid.
For most Minnesotans, there has been no recovery.
However, Minnesota's most celebrated corporations—including Minneapolis-based U.S. Bank and Target—find themselves well in the black. Profits are being made and unlike Minnesota's middle class, big banks and corporations are doing very well.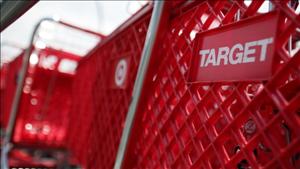 Minnesotans enjoy supporting homegrown businesses. Each day, we shop at Target or Best Buy and bank with U.S. Bank, believing that in some way we are supporting our communities. After all, these corporations convince us with slick advertising and cutting edge technology that they are "invested" in our neighborhoods. We want to believe that in some way we are supporting Minnesota's Main Street when we shop or bank with these companies.
Unfortunately, the reality is that Target, U.S. Bank and Wells Fargo each act much more like Wall Street than Main Street Minnesota. And as a result, these companies lock Minnesotans into an economy that is far from fair and balanced.
It is long past time for these companies to take a leadership position and work to move Minnesota forward and unlock our future. That certainly includes job creation, but it is much more.
In doing so, these companies can make a real difference in the lives of so many Minnesotans. In doing so, they will be doing the right thing to get Minnesota back on track, by putting money into the hands of employees and consumers that will spend that money in their stores and deposit it at their branches.
Right now too many Minnesotans working at Target can't afford to shop there. Too many Minnesotans who clean the headquarters of U.S. Bank can't afford to open a savings account.
This all can and will change when these corporations step up and do the right thing for all Minnesotans. This isn't about one group or community. It's about all of us.
Our Minnesota values rely heavily on helping each other. When crisis hits, we are there for each other. We expect these corporations to do the same—to do what they can to get Minnesota working again.
Our patience is running thin. Time and again promises have been made by U.S. Bank, Wells Fargo and Target that have not been fulfilled. Lawsuits and OSHA complaints have been filed alleging noncompliance with wage and hour laws and unsafe working conditions for workers employed by contractors in Target stores. The banks have been caught participating in lending practices that have harmed our communities greatly.
To achieve the future we deserve, Minnesotans are asking for the crises in our communities to be addressed: the income gap, racial disparities, education, jobs, housing. 
Last spring we reached out to open a dialogue with leaders of U.S. Bank, Wells Fargo and Target. However, after years of trying to fully engage with them, they have refused to lead.
So, we have a set a community deadline for noon on Sunday, February 24. We are asking that these companies agree to the following:
Publicly commit to fixing Minnesota's housing crisis by writing down home mortgages to current market value. This will pump billions into our economy.
Publicly withdraw your opposition to the "Homeowners' Bill of Rights" being considered in Minnesota's state legislature. This will empower more Minnesotans to reach—and keep—their American Dream.
Agree to a fair mediation process before evicting any more Minnesotans from their homes.
Publicly support a more fair and balanced revenue structure for Minnesota. This will ensure that the responsibility to pay taxes lies less on working people and more on those who have the ability to pay. Stop taking advantage of tax loopholes and pay your fair share in taxes.
Adopt fair hiring practices. This will reduce unemployment in African-American communities and will move our country forward toward its promise of true equality.
Open the lifeline of funds supporting families in East Africa. This will enable hardworking Somali Minnesotans to support their loved ones at home, and help ease the ongoing humanitarian crisis.
Lower interest rates on payday loan products to comply with Minnesota law. This will enable ordinary Minnesotans to keep more of the money that they earn.
Commit to using only responsible contractors—who pay fair wages and benefits and allow their workers to form a union—in your places of business.
Publicly support the efforts of more than 6,000 Twin Cities janitors and security officers to win good jobs with healthcare, good jobs that our community needs.
Publicly advocate for the full funding of our schools, colleges and Universities, restoring funding cut previously and calling for an end to any further cuts.