Hundreds of Minnesotans join legislators, clergy in highlighting need for commonsense solution to statewide problem
ST. PAUL (February 27, 2013) — A new report released today by Minnesota-based community organizations highlights the devastating impact of the ongoing foreclosure crisis on all Minnesota families. It was officially released this afternoon in an event on the south steps of the State Captiol where hundreds of concerned Minnesotans joined state legislators and leaders of various faiths in discussing the crisis.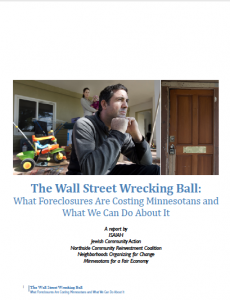 State Senator Patricia Torres Ray and State Representatives John Lesch and Mike Freiberg addressed the crowd, giving an update on the "Homeowners' Bill of Rights," comprehensive foreclosure legislation currently being considered in the Legislature.
"Minnesotans are still reeling from the effects of the Great Recession, which brought record rates of unemployment and foreclosures and blew holes in the state budgets nationwide," the report states. "While it was Wall Street's toxic lending practices and recklessness that created the economic crisis, it is Minnesota homeowners and taxpayers who are still paying the price."
The full PDF of the report is available here: http://action.mnfaireconomy.org/page/-/wallstreetwreckingballmn.pdf
The report's introduction continues, "The big banks that caused this crisis have not done enough to fix it. Instead, they exacerbated it with 'unsafe and unsound' mortgage servicing and foreclosure practices that led to countless unfair and unnecessary foreclosures."
"These multinational banks gambled recklessly with our loans in the global marketplace, ruined our entire economy, and then were bailed out of their own well-deserved bankruptcies with our tax money because they were 'too big to fail,'" said Rev. Jin S. Kim of the Church of All Nations. "Since we bailed them out, they need to be accountable to us the taxpayers and do the right thing."
"The crisis has devastated rural Minnesota," said Sarah Larson, a Waverly homeowner and small business owner. "In Waverly, 20 percent of the homes have been foreclosed on—destabilizing communities and uprooting families. We have all been impacted by the housing crash."
The report, released by ISAIAH, Jewish Community Action and Minnesotans for a Fair Economy is available here: http://action.mnfaireconomy.org/page/-/wallstreetwreckingballmn.pdf
Some of the data included in the report shows the impact of foreclosures by the numbers.
Foreclosures from 2008-2012: 141,239
Lost home value from 2008-2012: $20.7 billion
Cost to local governments in 2008-2012: $1.5 billion
Children affected by foreclosure: 94,000
Underwater homeowners in Minnesota: 100,000
The report release occurs on the third day of the Unlock Our Future Week of Action, being coordinated by the organizations listed above and several others. This morning, security officers who protect Minnesota's most celebrated corporations, including Target and U.S. Bank went on strike in downtown Minneapolis. Later today, a large rally and march is scheduled to take place in south Minneapolis, ending at Wells Fargo Home Mortgage.