Like many Americans, Elisha Jackson and his wife Kelly were struggling to just get by. With three precocious children under 10 and two full time jobs, they had their hands full. An involved member of the Twin Cities community, they were also involved in their church and lend a helping hand whenever they could. So when Elisha's sister and her two children needed a home, the Jacksons welcomed them.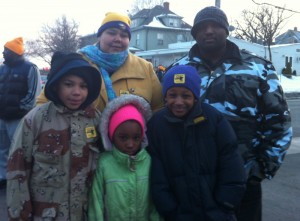 he family to Mary's Place, a free transitional housing facility in Minneapolis that feeds and houses families on the economic margin. They tried to save money, but their car note, medical bills, and a host of other bills prevented them from making a dent in their debt. Families at Mary's House are only supposed to stay for three months or less, but Kelly and Elisha stayed for five months due to their dire need.
Soon after Elisha's sister and her children moved in, the landlord demanded that they either pay more per month for the extra occupants or leave the property. They didn't have the resource to pay the landlord, and the space was not big enough for three adults and five children, so in September 2009, the whole family decided to move. With a new job, Elisha's sister also started to contribute to the rent and things were looking up. However, once Elisha's sister moved into her own space, the Jackson's were again struggling to pay their rent.
They continued to pay what they could, but were quickly falling behind. So in April 2011, Elisha and Kelly decided to move t
In September 2011, after finding no rental property in the Minneapolis area that they could afford, the family decided to move to a motel temporarily in order to save enough to get back on their feet. To move into the motel, they had to sell everything they owned including their furniture, the children's toys, and even the family dog, Sugarbear since there was no room in the single occupancy motel room with only two beds. When Kelly lost her job in February 2012 and the family's health insurance, their situation became even more dire.
What was supposed to be a temporary living situation has now become permanent. For the last year and a half, the family has lived in a motel room, and Kelly described their situation as "constantly living in survival mode." Instead of a yard, the children, 7 years old Ramiyah, 10 years old Elisha Jr., and 11 years old Kelan, now play in the motel parking lot. Kelly homeschools the children, and while she assures them that everything is going to be alright, Kelan understand the anxiousness of his family's situation and is currently in counseling to learn coping mechanisms. According to his mother, "he carries the weight of it all on his shoulder."
Elisha and Kelly want what every American family wants, a stable safe home for their children. Without knowing their story, the family looks like another typical Minnesotan family. Ramiyah loves to cheerlead, Elisha loves the Vikings and all things football, and Kelan is the extrovert singer.
The lack of affordable housing in Minneapolis, and all over the country, means that many more families are currently living in motel rooms, shelters, transitional homes, and some are on the street. Considering that many hard-working families around the country have been kicked out of their homes due to foreclosures by the same banks that they helped bail out, it is time for communities across the country to stand with their neighbors and fight for affordable and stable homes. Working with Neighborhood Organizing for Change, a member-led nonprofit that builds power in low- and moderate-income in the Twin Cities through community organizing, the Jacksons are now activists and are telling their story in hope that they can advocate for safe and affordable housing for all hardworking families.
In a report released today by Minnesota-based community organizations, 141, 239 homes were foreclosed in Minnesota between 2008 and 2012, and many of these houses are still empty. Housing is plentiful in Minnesota and across the nation and there is absolutely no reason for the Jacksons or any family to live in a motel room when there are thousands of empty houses that they could move into.
That is why the Jacksons are joining their fellow Minnesotans in a rally and march on February 27 to ensure that every Minnesotan family have access to affordable and safe housing. When hardworking families like the Jacksons are without stable housing, our communities and our nation's economy suffers.