On day three of the Unlock Our Future week of action, the community came together to deliver a message to corporations that regularly place profits over people. From the 2,000 striking security guards who stood their ground against earlier in the day to a family, currently living at a single occupancy room at Motel 6, Minnesotans made it clear that they were ready to strengthen and protect the middle class from greedy corporations.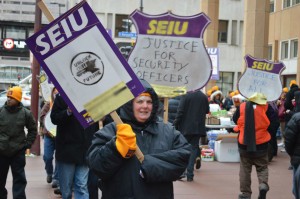 The day began with security officers going on a one-day strike against security companies that contract with major corporations, including Wells Fargo, U.S. Bank and Target. The security guards have been without a contract for almost two months and are seeking a living wage, affordable healthcare, and a safer workplace.
Asked why she was on the picket line in front of the Wells Fargo Center, Romisha Jones, who's been a guard for six years, spoke about her children and their wellbeing, "I have three beautiful children and I pay $280 per month for health insurance," she said. "The majority of my income goes toward that."
Later in the day, another family spoke about how they struggle to keep a roof over their head.
In September 2011, after finding no rental property in the Minneapolis area thatthey could afford, the Jackson family decided to move to a motel temporarily in order to save enough to get back on their feet. To move into the motel, they sold most of their belongings including their furniture, their three children's toys, and even had to give away the family dog, Sugarbear. There was simply no room in the single occupancy motel room with two beds.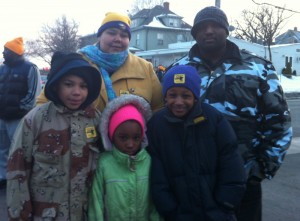 That is why they joined their neighbors in a march and rally to Wells Fargo Home Mortgage yesterday afternoon. The rally and march, organized by MN Neighborhoods Organizing for Change (NOC), Occupy Homes Minnesota, SEIU, CTUL, ISAIAH, TakeAction Minnesota and Minnesotans for a Fair Economy brought together homeowners and the homeless, faith and labor leaders, immigrants and citizens, and even a Wells Fargo employee, Patrick Russell.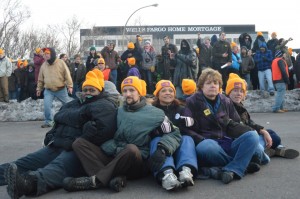 In the middle of rush hour, the crowd marched onto the 26th Street bridge and thirteen people were arrested when they refused to leave the street, advocating for affordable and stable homes. The bravery of these men and women was certainly a highlight of the day.
The lack of affordable housing in Minneapolis, and all over the country, means that many families are currently living in motel rooms, shelters, transitional homes, in cars and some are on the street. A report, also released on Wednesday at the state capitol made it clear that "while Wall Street's toxic lending practices and recklessness created the economic crisis; it is Minnesota homeowners and taxpayers who are still paying the price."
The report was released on the front steps of the State Capitol as hundreds of Minnesotans joined state legislators and religious leaders from various faiths held a press conference at noon. The legislators, including Reps. Lesch and Freiberg and Sen. Torres Ray provided an update on the "Homeowners' Bill of Rights" which Is currently being considered by the Legislature. And, in another win, the bill passed out of yet another committee last night!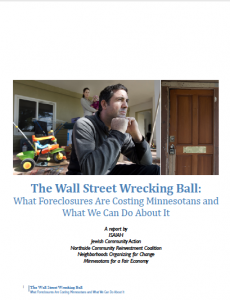 Considering that many hard-working families around the country have been kicked out of their homes due to foreclosures by the same banks that they helped bail out, the rally galvanized those in attendance to stand together against corporations like Wells Fargo that profit from putting families on the street.
Asked why he was joining the marchers, Patrick Russell told the crowd that he was there to support his community and the not the banking behemoth that places people over profits.
"The people of Minneapolis, both customers and employees, must mean little, if the hopes of our children and the education to reach their dreams take second place to corporate profits," Patrick said. "The communities of Minneapolis must mean nothing if Wells Fargo refuses to discuss principal reduction to help stem the tide of foreclosures, while bringing in million of dollars."
The Unlock Our Future Week of Action has brought together people of faith, members of Minnesota labor unions and other concerned Minnesotans who are working together for racial and economic justice.