Chris Newmarker | Finance and Commerce | February 14, 2013
Minneapolis-based Target Corp. may have stumbled onto a race relations issue as it expands its office campus in the northwest suburb of Brooklyn Park.
A coalition of minority and labor groups called the Northwest Community Collaborative wants the retail giant to "step up to the table" when it comes to hiring low-income and minority residents in Brooklyn Park, said Wynfred Russell, executive director of Brooklyn Park-based  African Career, Education & Resource Inc. and an organizer of the collaborative.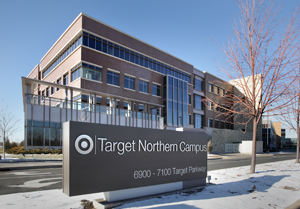 Russell thinks Target should do so because the expansion of the Target Northern Campus, at Highways 169 and 610, is being subsidized with $2.5 million of tax increment financing (TIF) dollars. Target has said it plans to transfer 3,900 technology workers from downtown Minneapolis to the campus, increasing the campus work force to 5,200 by 2014.
Russell would like to see more jobs for the roughly 80,000 residents of Brooklyn Park, who generally make less money and are more likely to be black or Asian-American than residents across the seven-county Twin Cities core.
Half of Brooklyn Park's residents are white while three-fourths of residents across the Twin Cities are white, according to the Metropolitan Council's community profile. In recent years, half of Brooklyn Park households made less than $60,200 annually. That's $4,500 less than the median household income across the metro.
"We're trying to look out for the voiceless and low-income people living in Brooklyn Park. They don't have a shot at getting a job at the Target campus," Russell said.
In response to the coalition's concerns, Target spokeswoman Molly Snyder said the retailer is a "good neighbor" in its communities: "We place a high value on creating a diverse work environment and focus on hiring qualified applicants who match the skill sets needed for particular positions."
Construction workers under Ryan Cos. US broke ground in June 2012 on a $32.5 million, 325,000-square-foot office tower at the campus, where the company already had six buildings. Work on a second, similarly sized building started about two months ago.
The Brooklyn Park Economic Development Authority did not include job requirements for the project when it approved a $2.5 million subsidy in December 2011, nor did it require local hiring in the 2006 property tax abatement agreement that the subsidy partially replaced.
City officials brought up local hiring in negotiations with Target officials, but were unable to get the company to agree, said Jason Aarsvold, Brooklyn Park's community development director.
"If we had insisted on it, we would not have had a campus," Aarsvold said.
Technically, the money is coming from excess property tax dollars in Brooklyn Park's TIF districts — money the city was able to spend on private development under a temporary state program created in 2010. But Russell argues, "At the end of the day, it is not Target private funds paying for this."
Still, Aarsvold points out that the city is receiving plenty of benefits in return. The two buildings, once completed, will generate an extra $2 million a year in property tax revenue for the city. The number of jobs in the city is expected to increase 15 percent, and Aarsvold suspects some of the 3,900 Target workers transferred to Brooklyn Park will choose to live there as well.
Russell has discussed creating technical training programs geared toward Target campus jobs at both North Hennepin Community College and Hennepin Technical College.
Target does not need to promise any money to get such training programs going, but it does need to pledge that some of the local residents who go through the training will be able to secure jobs on the campus, Russell said.
Russell had no issues with Target's overall affirmative action record. (Target CEO Gregg Steinhafel has described diversity as a "core value" in the company.)
But Russell also thinks Target needs to commit to hiring more in Brooklyn Park. "We don't think this is too much to ask," he said.
Target may be missing an opportunity, said Eric Fought of Minnesotans for a Fair Economy.
"There's a lot of opportunity for Target to have a more diverse workforce, and they're not doing that," said Fought, who is helping the collaborative with outreach.
The collaborative is organizing a community "listening session" on Feb. 26 at 7 p.m. at North View Junior High, to discuss ways to improve city development contracts with Target.