As session gets underway, Minnesota's moment for a fair economy awaits
Today in Saint Paul, both houses of Minnesota's Legislature will convene for the start of the 2013 session. Perhaps the most eagerly anticipated session in some time, Minnesotans from all corners of the state are hopeful that those elected will place people over politics and principles over party. With that hope in mind, Minnesotans realize that our state's budget — just like its overall economy — is unbalanced and far from fair.
Minnesotans for a Fair Economy released the following statement from Director Donna Cassutt:
"After a decade of imbalanced, cuts-only state budgets it's time for Minnesota to balance the budget responsibly — and for good. The budget must be fair. It must protect middle class families and invest in making our economy grow. Raising fair revenue to grow jobs, provide a 21st century education for our children and build roads and bridges to move goods produced by small businesses around our state is the most responsible way to balance the budget.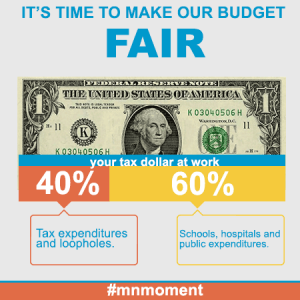 "At the same time, we call on our Legislature and Governor to carefully heed the concerns of a majority of Minnesotans who embraced a progressive economic agenda which calls on the richest among us to pay their fair share. It's time to ask the one-percent to be a part of the budget solution, just like working Minnesotans have been asked to do for a decade.
"We cannot balance another budget on the backs of Minnesota's middle class. It's time for the rich and big corporations to pay their fair share. The time for a one-sided solution — cutting from those that need the most help — is over.
"As this session begins, we also remind the Legislature that a foreclosure crisis continues to ravage communities throughout this state. Nothing less than a statewide solution will address the needs of these families, found in each Senate and House district in Minnesota.
"Minnesotans for a Fair Economy and its partners are eager to work with members of this Legislature and look forward to finding balanced solutions that put middle class families first and protect broad prosperity.
Media contact: Eric Fought, efought@mnfaireconomy.org