In person with Kline and his staff, Minnesotans request that he change his position and stand up for the 99% 
Several constituents of U.S. Representative John Kline (MN-02) have approached the Republican member of Congress recently, asking him to change his position and support a raise in the federal minimum wage. On Sunday, Terri Buttleman of Mendota Heights visited Kline's campaign office in Burnsville to ask him to support an increase in the minimum wage. He told her that he continued to oppose such a move.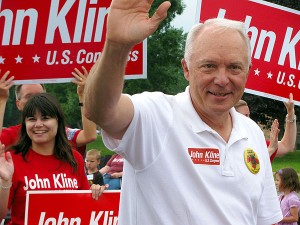 Yesterday, James L. Peng of Inver Grove Heights visited Kline's district office in Burnsville, seeking to meet with Rep. Kline. Upon being told that Kline was not in the office, Peng left a letter asking Kline to support an increase in the federal minimum wage and requesting that he consider agreeing to live on $290 a week, the gross wages of someone working 40 hours a week at minimum wage.
"Perhaps it's difficult to imagine what $290 a week might look like," Peng wrote. "We'd like to encourage you to consider trying to live on that amount for one week. After all, it isn't easy to understand one's personal experience if you haven't encountered that experience yourself."
Minnesotans living in the Second Congressional District plan to continue calling on Rep. Kline to support a living wage for all of his constituents. As Peng and others wait for an official response, they will join together to make sure that Kline is aware of their position on this issue.
"Minnesota workers shouldn't be living in poverty," said Donna Cassutt, Director of Minnesotans for a Fair Economy. "Since Kline last voted no in 2007, our economy has collapsed and more and more Minnesotans have been forced to take minimum wage jobs. These aren't high school kids; they are John Kline's neighbors and constituents. It's time he experienced what it's like for these workers to try and get through a week and make ends meet."
MEDIA CONTACT: Eric Fought, efought@mnfaireconomy.org. 
###
FULL TEXT OF PENG'S LETTER:
July 16, 2012

The Honorable John Kline
United States House of Representatives
101 West Burnsville Parkway, #201
Burnsville, MN 55337

Dear Representative Kline:

As you know, the federal minimum wage hasn't been raised since July 24, 2009. In 2007 you voted against that increase.

Since then, our economy has collapsed and more and more of your constituents are struggling economically. Many who have lost high-paying jobs in various sectors have been forced to accept jobs paying the minimum wage. Those Minnesotans garner only $290 a week in gross wages, if they are fortunate enough to be scheduled for a full 40 hours.

I'm writing to you today to ask you to support a long-overdue increase in the minimum wage. Minnesota workers shouldn't be living in poverty.

Perhaps it's difficult to imagine what $290 a week might look like. We'd like to encourage you to consider trying to live on that amount for one week. After all, it isn't easy to understand one's personal experience if you haven't encountered that experience yourself.

I'm writing to you today to ask you to live on only $290 for a week. Take a week and live like the rest of us.

Thank you in advance for your time and consideration. I look forward to hearing from you.

Sincerely,

James L. Peng