Rally asks Fairview to replace Wells Fargo Executive Jon Campbell with a patient representative
Minneapolis – More than one hundred Fairview hospital workers and community members rallied in front of the Wells Fargo Bank branch on Franklin and marched in the area to ask Fairview Hospital to remove Wells Fargo executive Jon Campbell from its board of directors.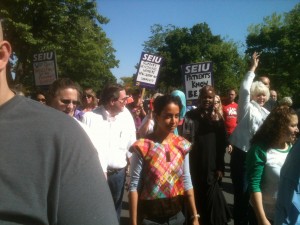 "There's no place for the for-profit, corporate mentality of the big hanks in healthcare. Our message today to Wells Fargo is simple: get out of our hospitals! You've done enough damage to our communities already," said Maxine Maxon, a nursing assistant at Fairview-Riverside Hospital and member of the Executive Board of SEIU Healthcare Minnesota. Wells Fargo has been the target of local and national protests over foreclosures, predatory lending and tax dodging.
In the wake of the Accretive hospital debt collection scandal, members of SEIU Healthcare Minnesota and the community argue that the hospital chain should make a clear statement that patients come before profits by replacing Campbell with patient representatives on its board.
"What does a bank know about healthcare? Wells Fargo Vice President Jon Campbell and the other board members of Fairview saw fit to bring in Accretive, to act in an aggressive manner to collect money from patients before giving them care. Imagine how you would feel if your loved one required care, and you were being harassed to pay up while your loved one was lying in pain?" asked Mark Freeman a SEIU Healthcare Minnesota member who addressed the rally.
At the rally Healthcare workers conducted an educational skit about how banks' tax dodging and lobbying leads to cuts in health care and community leaders signed a giant letter to Fairview CEO Mark Eustis asking him to put patients rather than bankers on the hospital board.
The activists then marched in the street tothe 26th Avenue bridge where they displayed a large banner reading "Fairview choose health over wealth. Get Wells Fargo Off Your Board."
In recent weeks State Attorney General Lori Swanson has announced an ongoing investigation over unfair bill collections practices by the Illinois consulting firm, Accretive Health, at area hospitals. The Attorney General's investigation, supported by independent reporting by credible news organizations such as, The New York Times, Minneapolis Star Tribune and others, uncovered information pointing to aggressive and possibly illegal attempts to collect payments from patients at seven Fairview hospitals and North Memorial Hospital, even as the patients were seeking emergency treatment and other health care services.
SEIU Healthcare Minnesota members provide care to patients at Fairview and North Memorial facilities and have raised serious concerns about Accretive practices for months. As Minnesota Public Radio reported last week, Fairview and North Memorial have refused to provide all information their employees have requested regarding Accretive during contract bargaining with SEIU Healthcare Minnesota members.
SEIU Healthcare Minnesota is a member of a coalition of community, faith and labor groups that will conduct "The 1% vs. Democracy March" on Friday, May 11, beginning with a rally at 2:00pm in Peavey Plaza. Participants will march through downtown to Wells Fargo and US Bank headquarters to rally against economic inequality and corporate political influence.
View photos of the rally here: http://www.facebook.com/media/set/?set=a.361246653933836.81535.162291400496030&type=1
Media Contact: Kevin Whelan, kwhelan@mnfaireconomy.org.
###